It's exciting times for PC builders in NZ with more of the latest 10th Gen series of Intel CPU and the new B460, H470, H410 & Z490 motherboards finally released and available today!
UPDATE: All the new options have been loaded into the PB Tech Custom Gaming PC Builder Online Tool, so we all can start to design new systems using the latest components right away.
This new Intel CPU series is particularly exciting, not only for the world speed records that are no doubt about to get smashed, but also because the Intel 10th Gen ready 400 series motherboard chipset introduces a new socket required to fit them - meaning older motherboards will not be compatible, even with BIOS updates.
This means all new PC builds are coming, with faster RAM, and some undoubtedly beautiful new AiO Water Cooling kits too!
Essentials...

- 10th Gen Intel works with new 400 Series Motherboards.
- The new CPU Socket LGA1200 is compatible with Socket LGA1151 CPU Coolers
- For overclocking combine a Z490 Motherboard with an Intel 10th Gen 'K' or 'KF' unlocked CPU
- The new go-to RAM speed is 2933MHz (up from 2666MHz)
- If you combine a Z490 Motherboard with an Intel 10th Gen 'K' or 'KF' unlocked CPU you can OC your RAM too, we recommend shopping 3200MHz RAM kits or above in this case.
let's take a quick look at the new CPU range that's available in NZ today, and then jump into all the exciting new motherboards.
Starting with the basics, Intel 10th Gen is looking to be the most powerful generation of Intel mainstream desktop processors to date. So if you are a gamer looking for an uncompromised experience in-game, along with the performance headroom for smooth live streaming or on-the-fly highlights recording and editing, this new generation of Intel CPU are a part of the system you'll be wanting.
Kicking things off with the top tier in the Intel 10th Gen unlocked "K" series we have the exceptional i9-10900K - which is expected to be first of the new CPU series to land in New Zealand, and the performance provided by this beastly unlocked CPU is amongst the best in the world, as you would expect, but being a "K" unlocked version you'll need to add an aftermarket cooling solutions, and also want to use the (Z)490 series motherboard to get the most out of all their fancy overclocking features. Comparing to the current i9-9900K the i9-10900K is sporting additional cores (now 10, up from 8) and threads (now 20, up from 16).
The most affordable option in the unlocked "K" series of 10th Gen CPU looks to be the new i5-10600KF with 6 cores and 12 threads of processing goodness inside. Just as the "K" symbolises the unlocked potential of the CPU the "F" marks the removal of the integrated graphics (which we don't use in gaming rigs anyway) so the price is excellent! For a gamer on a budget, this is likely going to be the goto CPU to use now.
Of course, we're not all into overclocking and Intel know this, so don't feel like need to go 'K' series to enjoy the new intel 10th gen range, there are awesome options coming such as the i5-10400, i5-10500 & i5-10600 which also feature Intel's own integrated graphics solution - making them a super exciting option for really small builds too!
Shop the latest Intel 10th Gen CPU
As we mentioned above, with the new Z490 series and an Intel 10th Gen 'K' CPU you can OC ram easily to enjoy faster speeds.
This is much easier than overlocking a CPU or GPU, thanks to Intel Extreme Memory Profiles (XMP).
In order to use XMP the RAM must adhere to standard speeds set by Joint Electron Device Engineering Council (JEDEC). So even if you buy RAM advertised at 3200MHz it won't be able to run at those speeds unless you insert it into a motherboard that's ready for it.
And, even if you do have an awesome motherboard such as a new Intel Z490, it won't immediately run at those advertised speeds, but it's super easy thanks to those XMP profiles that are within the RAM sticks, ready to go.
Your motherboard BIOS can read these profiles and will populate with the settings/optimal timings chosen by your RAM's manufacturer, so sticking with the biggest and best brands in the world (such as Crucial Memory) is a good way to ensure a smooth process.
Fast RAM for Intel XMP and 10th Gen 'K' CPU
Now onto the new motherboards!
Now that a large range of Z490 motherboards are available, we an array of great looking options from Asus/ROG, Gigabyte/AORUS and ASrock all ready to go with the new 10th Gen Intel CPU range so let's see what the various sizes offer.
You can shop the full range in our massive Intel Desktop Motherboard category here at PB Tech, we'll continue on taking a closer look at three different Z490 sized options - ITX, mATX and ATX.
Z490 ATX Motherboards for Intel 10th Gen
Kicking our quick look off with a full sized ATX option we have this mighty looking AORUS Z490 PRO AX and it's starting to look very serious indeed - reinforced PCIe slots support large heavy graphics cards, M.2 slots sporting massive heatsinks for your storage too! The previous PRO series soared to new heights as one of the top selling gaming boards in NZ, and we're excited to see if the trend continues on - which is probably will thanks to a great looking design that's super powerful!
Z490 iTX Motherboards for Intel 10th Gen
The AORUS Z490I Ultra ITX Gaming is a mini-ITX motherboard perfect for building a high performance small form factor PC that needs to look great, preferably with a little window on the side to show off the beautiful components within. The compact yet powerful motherboard delivers amazing performance for the latest 10th gen CPU coming equipped with a comprehensive thermal solution to keep it cooler under heavy workloads while supporting large graphic cards and having blazing-fast AX WiFi + Bluetooth built-in.
Z490 mATX Motherboards for Intel 10th Gen
Next up we have the slightly larger but still rather small mATX option named the Gigabyte Z490M - with a darker style that we love and multiple PCIe slots! Although subtle in comparison to the model above, this Z490M doesn't skimp on features.
With the inclusion of DVI, HDMI & DisplayPort (4K 60FPS!), plus a rear IO USB 3.2 Type-C port, this one is looking great for smaller office builds that will make use of the powerful new Intel 10th gen CPU with integrated graphics, such as the i5-10600K, i7-10900K or i9-10900K, freeing up those PCIe slots for other devices.
Latest H410, B460 and H470 Motherboards
Intel 10th Gen Ready on YouTube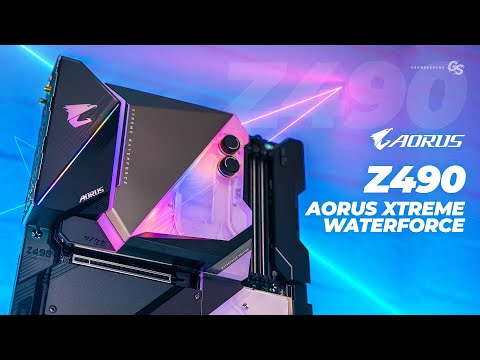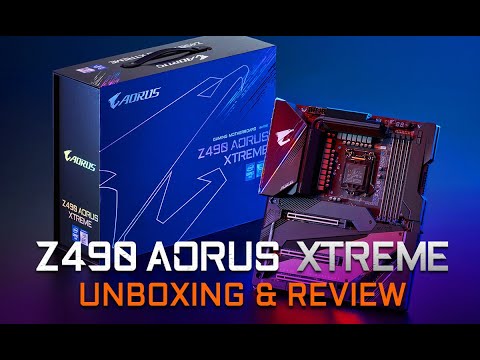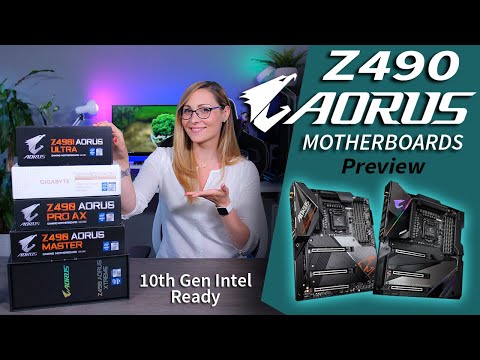 Woah, that got a bit technical at times but it's all looking GOOD!
This is just a part of the new range too, so we'll keep adding all the new products to this page as they arrive and also into the brand stores for each manufacturer - so be sure to keep your eyes on the Intel Store for more of the latest!